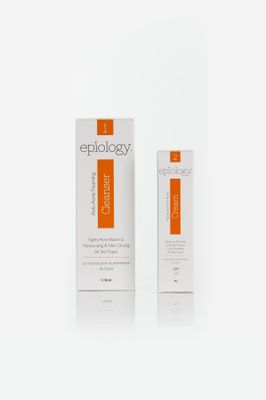 Foaming Cleanser and Cream combo
Epiology
$45.00
or 4 interest free payments of $11.25 with
learn more
If you're searching for a clinically proven, dermatologist recommended skincare duo, look no further. Epiology's Anti-Acne Foaming Cleanser prevents the spread of acne-causing bacteria, removes oil and leaves skin feeling clean and smooth. You'll love its moisturising and non-drying properties, suited to all skin types, plus it's fragrance, colour and SLS free - perfect for sensitive skin!
Give your skin a hydration boost with Epiology's Advanced Anti-Acne Cream, which uses our unique triple action system to prevent acne, improve skin clarity and reduce redness.
The Advanced Anti-Acne Cream includes our patented active ingredient IDP to naturally soothe and promote acne wound healing, leaving your skin clearer and moisturised.
Ingredients: Anti-Acne Foaming Cleanser
Active ingredient: Chlorhexidine Digluconate 0.5%
Water, Glycerin, Cocamidopropyl Betaine, Phenoxythanol
Ingredients: Advanced Anti-Acne Cream
Active ingredient: IDP 1.5% (lactis proteinum)
Water, white soft paraffin BP, Cetearyl alcohol, glycerin, liquid paraffin BP, Phenoxyethanol, Ceteareth-20, Xanthan gum, Potassium thiocyanate.
Read our blog on IDP and how it protects your skin.
Made in New Zealand from local and imported ingredients.
SKU: 10003